TRI NATURE Supre Multi Purpose Cleaner
Regular price
Sale price
$8.95 AUD
Unit price
per
Sale
Sold out
Tri Nature's Supre Multipurpose Cleaner is a powerhouse of herbal extracts that lift stubborn messes, allowing you to quickly and easily wipe them away. Awesome cleaning performance without the harsh odours or toxic residues of ordinary spray cleansers. The Eucalyptus fragrance just oozes cleanliness!
Ideal for a wide range of greasy and difficult cleaning jobs - limited only by your imagination.
Use on a variety of hard surfaces such as stove tops, tiles, bench tops, laminate, ovens, and outdoor areas.
Suitable for spot cleaning furniture, carpets and other messy jobs.
An alternative to sugar soap.
Uses plant-based solvents to get into and lift greasy messes and stains.
Simply spray, leave for a moment and wipe - no hard rubbing or scrubbing needed.
The concentrated formula is exceptional value - 1L will make up to 10 x 500ml bottles.
Fragranced with 100% Eucalyptus essential oil.
Bottles are completely recyclable.
Dilute in a 500ml Tri Nature Spray Bottle, also available for purchase separately.
AUSTRALIAN MADE | NO PHOSPHATES | NO NITRATES | NO PETROCHEMICALS | NO ANIMAL TESTING
DIRECTIONS: 'Concentrate' Cleaning – dilute 50-100ml into 500ml spray bottle and fill with water. Painted Surfaces – dilute 20ml per litre of water into a bucket. External cement/tiles – dilute 50ml per litre of water into a bucket. Grease or oil on cement – use 1 part concentrate to 2 parts water. 'Express' – spray directly over surface. Allow to sit briefly. Wipe off with a clean dry cloth or sponge.
INGREDIENTS: Water, Fatty Alcohol Ethoxylate, Lauryl Alcohol Ethoxylate, Quaternary Amine Surfactant, Sodium Silicate, Methyl Methoxy Butanol, Tetrasodium Glutamate Diacetate, Citric Acid, Essential Oil Based Fragrance.
Shipping

Shipping within Australia

$16.95 Flat Rate Standard

$18.95 Express Post
Click + Collect

45 Swan Street, Wagga Wagga NSW 2650
Share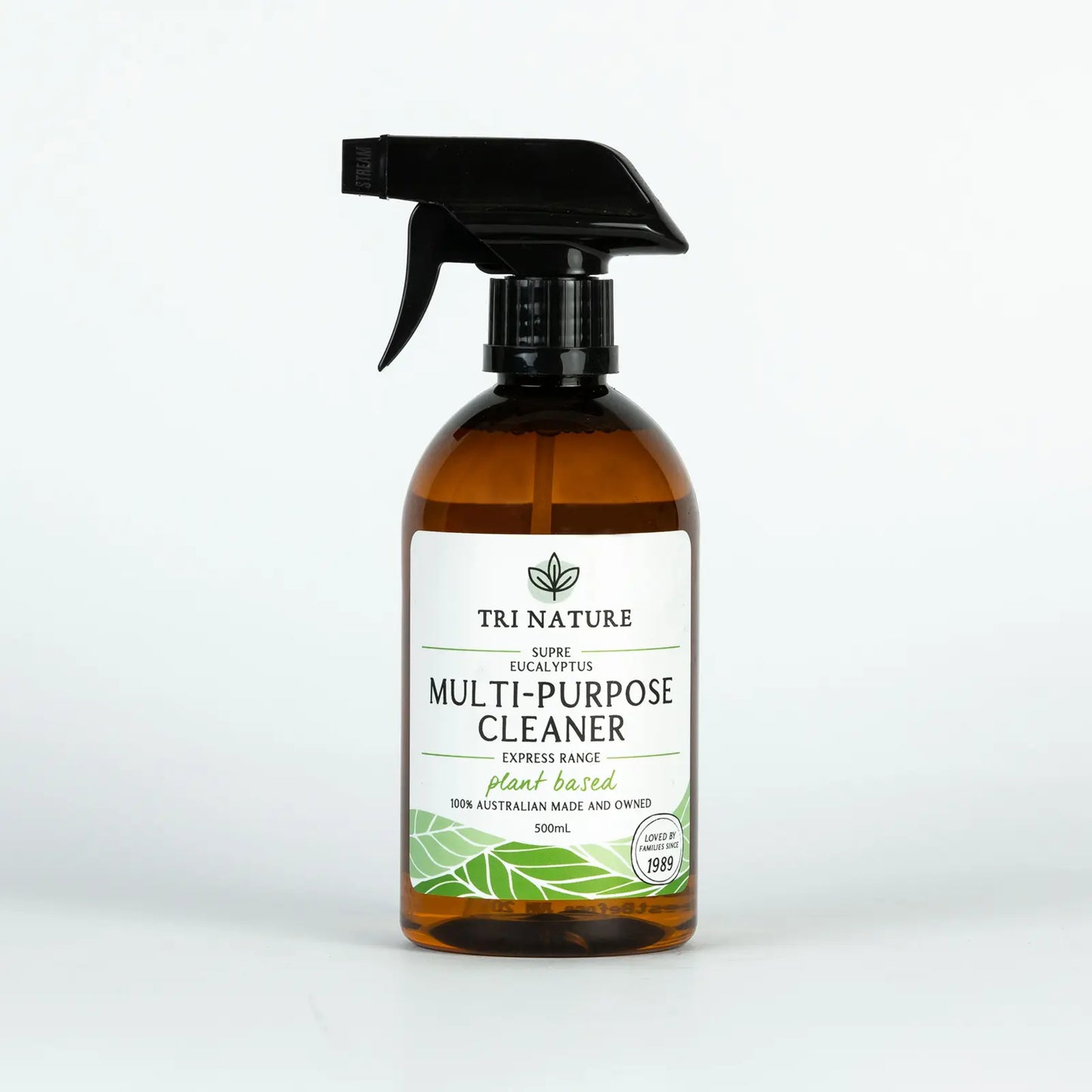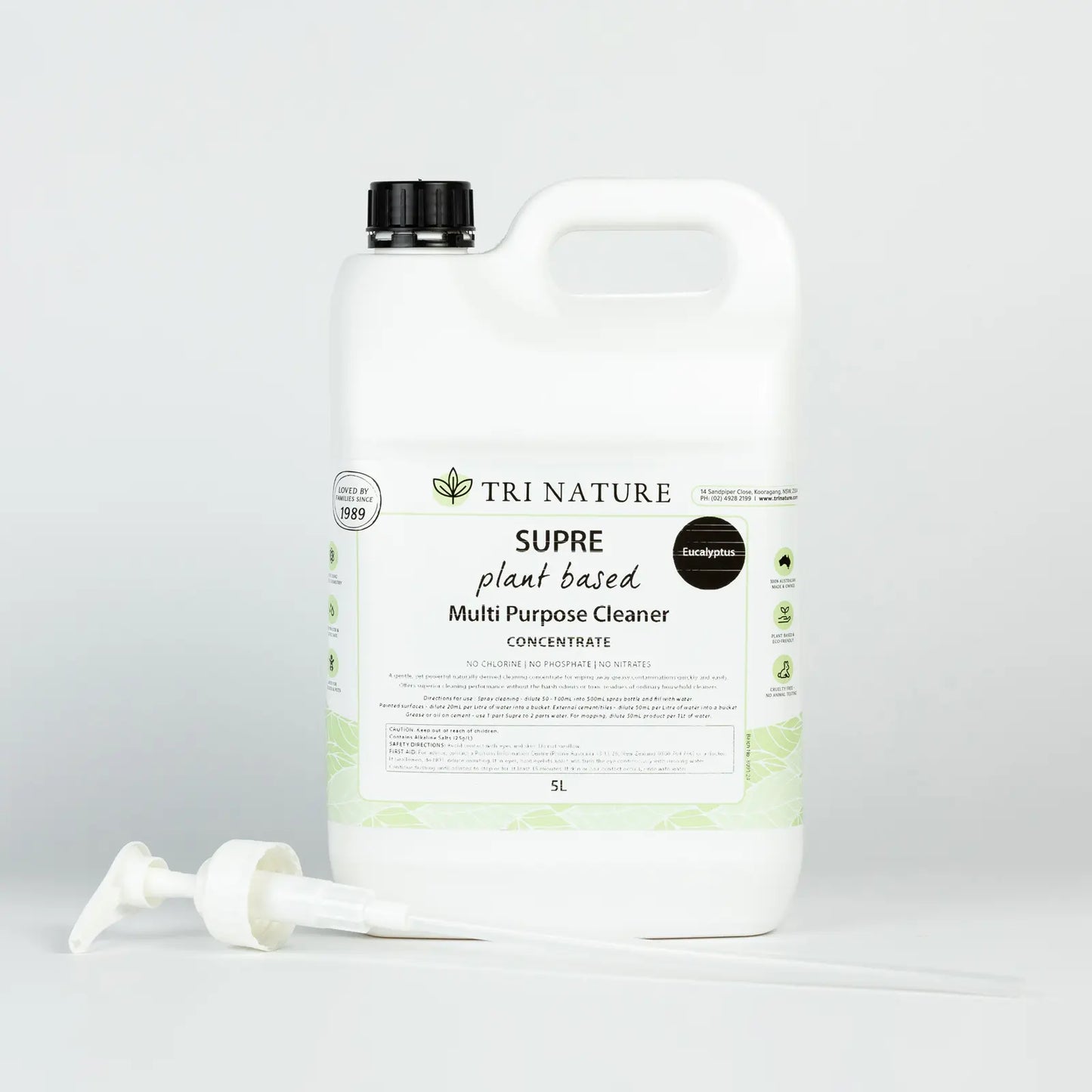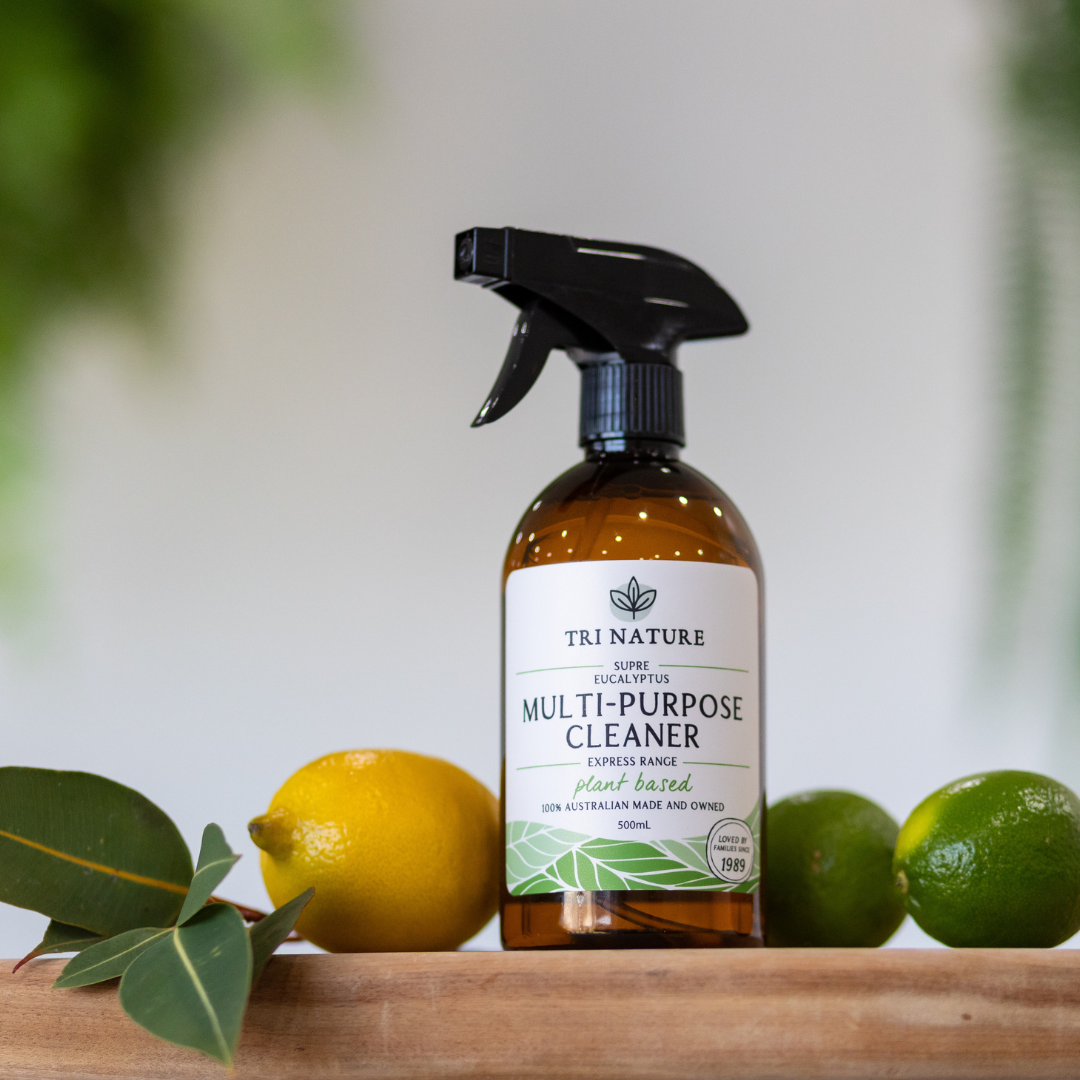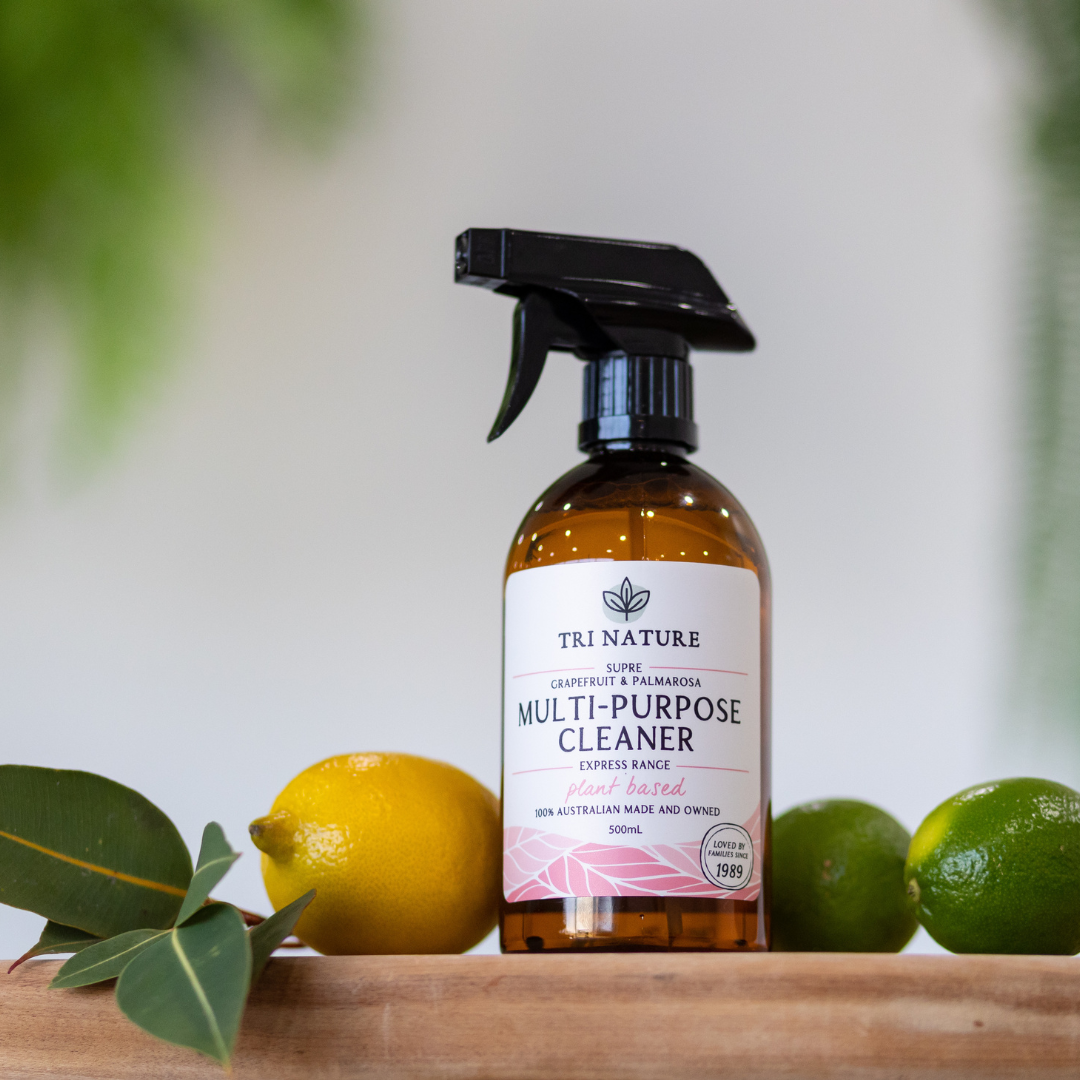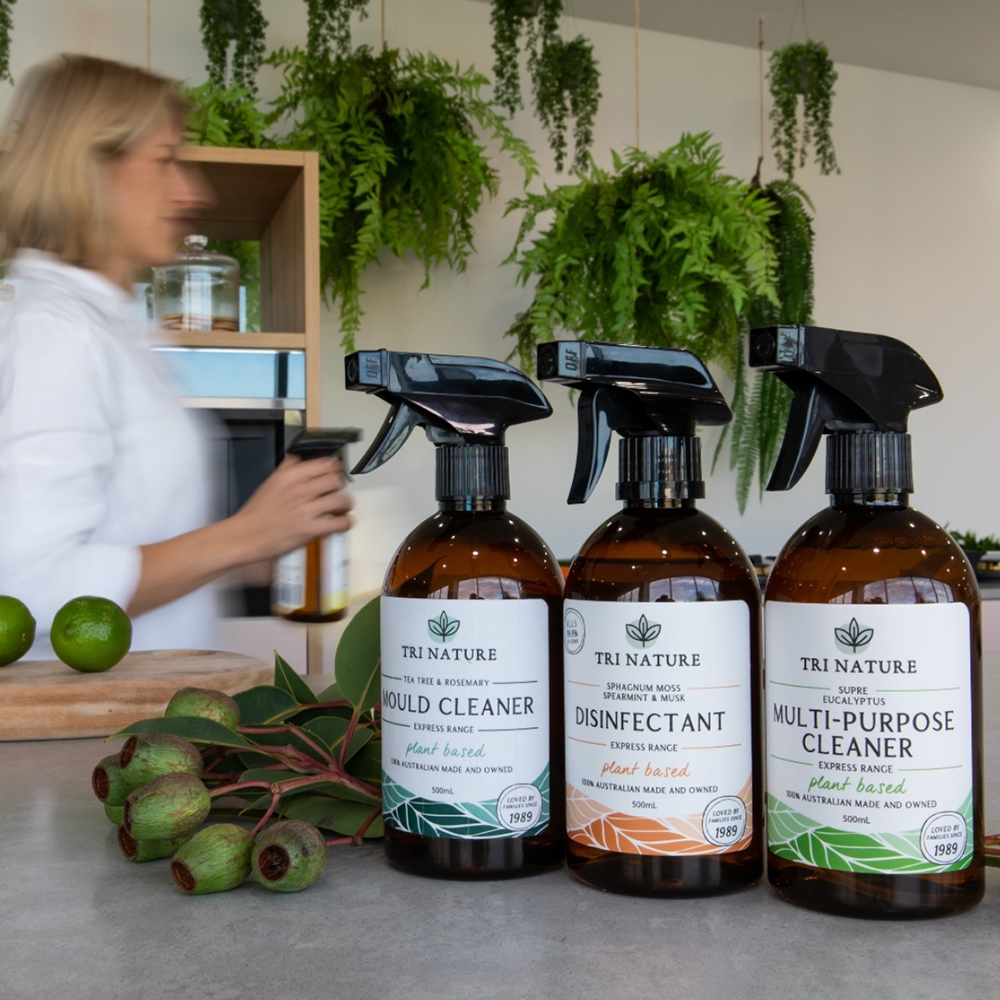 GENTLE PRODUCT!
I have had a lot of trouble trying to find a spray and wipe cleaner that would actually remove dried food scraps and grime without having to scrub and mark my enamel bench tops. I gave Supre a try and I was really surprised that such a gentle product could produce amazing results. Not only does my bench top look better than ever, but cleaning it is much easier too.