TRI NATURE Sanazone Disinfectant 'Odourless'
Regular price
Sale price
$8.95 AUD
Unit price
per
Sale
Sold out
Tri Nature's Odourless Sanazone Disinfectant Concentrate has be created specifically for kitchen use where you don't want to mix food with fragrances. Nature's own germ killing plant extracts of Oregano, Rosemary and Thyme have been blended to create this non-toxic disinfectant. Suitable for use in home and commercial kitchens.

The odourless formula is Ideal for chopping boards, kitchen benches, sinks, fridges, freezers and high chairs.
Suitable for domestic and commercial use (Safety Data Sheets can be provided upon request).
Extremely economical formula - 1L creates up to 200L of disinfectant!
Bottles are completely recyclable.
Dilute in a 500ml Tri Nature Spray Bottle, also available for purchase separately.
AUSTRALIAN MADE | NO PHOSPHATES | NO NITRATES | NO PETROCHEMICALS | NO ANIMAL TESTING
DIRECTIONS: 'Concentrate' – dilute 25ml product into 500ml spray bottle and fill with water. 'Mopping'– dilute 10-20ml product per 1L of water. 'Express' – spray directly over surface. Wipe off with a clean dry cloth.
INGREDIENTS: Water (Aqua), Fatty Alcohol Ethoxylates, Lauryl/ Myristyl Dimethyl Benzyl Ammonium Chloride, Thyme Extract, Rosemary Extract, Oregano Extract, Dye.
Shipping

Shipping within Australia

$16.95 Flat Rate Standard

$18.95 Express Post
Click + Collect

45 Swan Street, Wagga Wagga NSW 2650
Share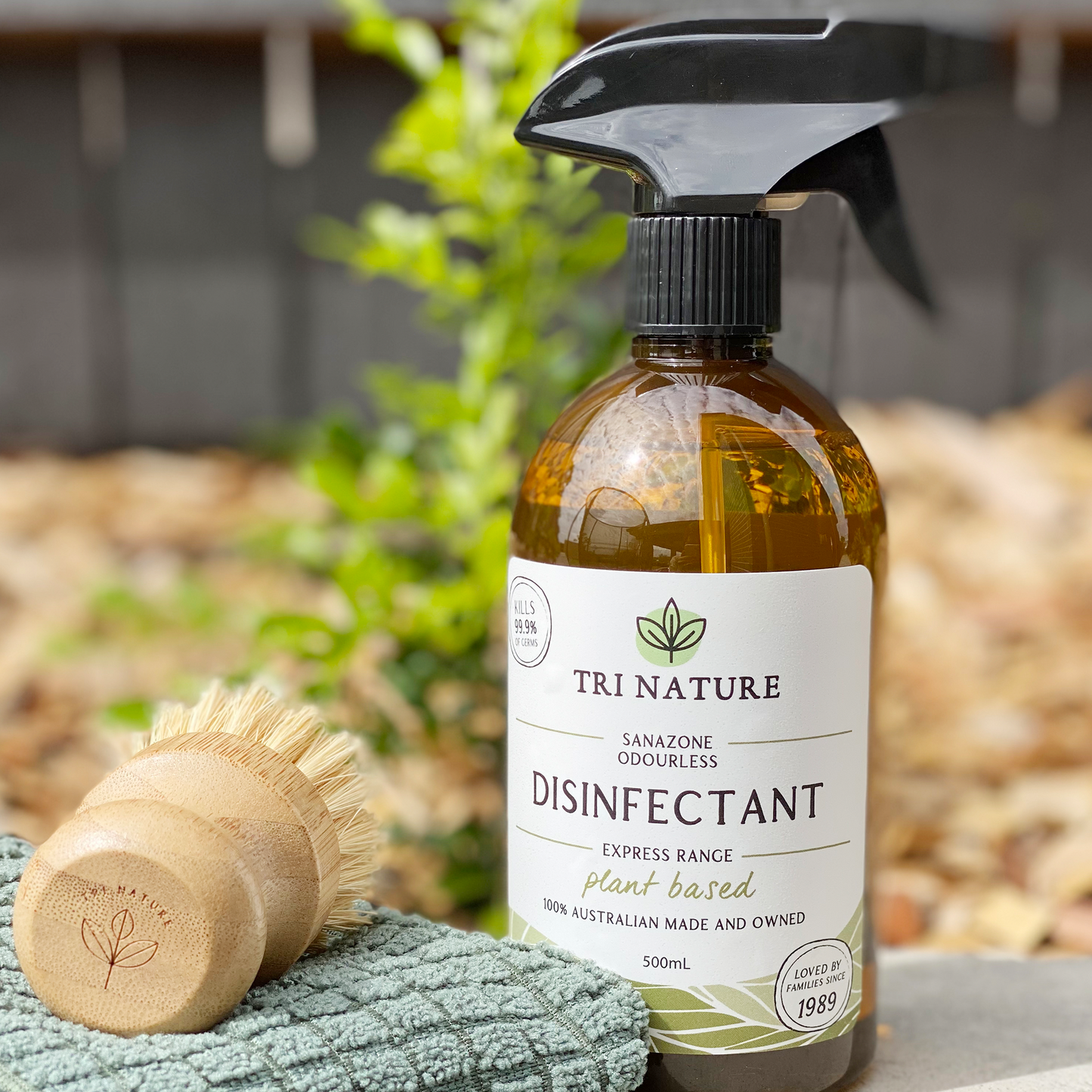 AMAZING RESULTS!
Although I saw fantastic reviews for the other Tri Nature disinfectant, I ended up buying this one as I like that it's odourless (I'm not a fan of random scents added to products) as well as that it's recommended for food preparation surfaces, meaning that I don't have to worry too much where it's sprayed around the house and I can use it on chopping boards too. I was surprised after receiving it how concentrated it is! A 1L bottle lasts for AGES. For general cleaning, you only need 5ml in 500ml of liquid! Having no scent is amazing too – I spray it all the time onto wooden chopping boards and there's no weird smell afterwards. I've used it in heavy duty circumstances when we've had stomach bugs spraying it onto everything surface possible at the 25ml concentration for heavy duty purposes, and to my shock, people within the same household didn't get gastro! It also seems to have a cleaning ability too – I don't need a general purpose cleaner anymore. Just spraying this on surface lifts up general grime too. So don't be mislead by the name, it's a general purpose cleaner AND a disinfectant that doesn't have a scent! It's a double win! If you did prefer a scent, I've seen amazing reviews on the other Tri Nature disinfectants, so I'm sure they'll be the same.